Welcome to our congregation! Open Arms presents basic Christian faith. If you are investigating Christianity, or if you are a follower of Christ who prefers contemporary worship, these services are designed especially for you. While we use up-to-date language, music, and drama, our Bible-based message is as eternal as the revelation of God's love through the life of Jesus.
John 6:56-58 New Century Version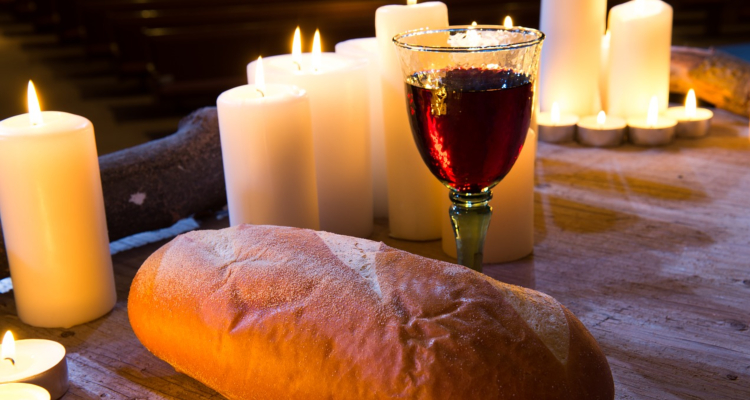 "Those who eat my flesh and drink my blood live in me, and I live in them. The living Father sent me, and I live becuse of the Father. So whoever eats me will live because of me. I am not like the bread your ancestors ate. They ate that bread and still died. I am the bread that came down from heaven, and whoever eats this bread will live forever."
***
This meditation follows the format of Daily Bread, a Community of Christ resource that is available for daily meditation. It includes a short message, a short excerpt from the Daily Prayer for Peace, a spiritual discipline, and a statement of a peace covenant.
I am the living bread that came down from heaven…Jesus said to them, "Very truly, I tell you, unless you eat the flesh of the Son of Man and drink his blood, you have no life in you. Those who eat my flesh and drink my blood have eternal life, and I will raise them up on the last day; for my flesh is true food and my blood is true drink. Those who eat my flesh and drink my blood abide in me, and I in them. Just as the living Father sent me, and I live because of the Father, so whoever eats me will live because of me." —John 6:51–57, excerpted
Within these verses is the reference of Jesus to himself as the "Son of Man." This places him in the context of being one of us, human in nature and subject to the circumstances of living that we encounter. Jesus, I believe, was a searcher of his own identity and purpose for the greater part of his life. His explorations were much like our own. Upon submitting himself in the waters of baptism and experiencing a profound, confirming encounter with the Spirit, he was poised to respond. He embarked upon a surer path of faith and discernment to be able to proclaim "the Spirit is upon me" and courageously risked self to fulfill his emerging sense of call. Jesus lived into a life stance of "abiding in me" with God.
Encounter with the Holy in the sacramental moment of partaking of the Lord's Supper imprints upon us the reality of oneness in an abiding sense. This is a moment of submission, of absorbing discernment and listening within. The emblems of bread and wine, the symbolism of body and blood, the essence of Jesus as "word made flesh" are like nurturing, sacramental guideposts along the path to a richer, actualized encounter with God. We abide in God in the fuller reality of that moment. In the peak awareness of the encounter of "abiding," we in essence become poised to respond—to live into the presence of the Spirit in a mutually attuned relationship of discerning, empowering…discerning, empowering…in response to the ministerial needs of the moment.
The heart of John's portrayal of Jesus is as "bread of life"—one with God. The bread and wine are symbolic of Jesus with whom we may become one through all time. Through this conscious oneness we, too, become poised in our awareness of "the abiding Spirit upon me," which thrusts us into Christ's mission. "Abide in me" is the clarion call of Christ to our searching souls.
--Kerry Richards, Canada East Mission Centre presidentA
Prayer Phrase
"In God's hand is the life of every living thing and the breath of every human being" (Job 12:10).

Spiritual Practice

All That Lives: Sit quietly and sense God's presence flowing through the trees and all creation. Offer a prayer of gratitude for your connection to all that lives. Ask for grace to discern and carry out one small act of justice or healing that creates greater wholeness for the plants, animals, trees, waters, air, and land that are part of the community of creation.
Prayer for Peace
Engage in a daily practice of praying for peace in our world. Visit the Daily Prayer for Peace page to find each day's prayer and be a part of this practice of peace.