Welcome to our congregation! Open Arms presents basic Christian faith. If you are investigating Christianity, or if you are a follower of Christ who prefers contemporary worship, these services are designed especially for you. While we use up-to-date language, music, and drama, our Bible-based message is as eternal as the revelation of God's love through the life of Jesus.
Luke 14:1, 12-14 Good News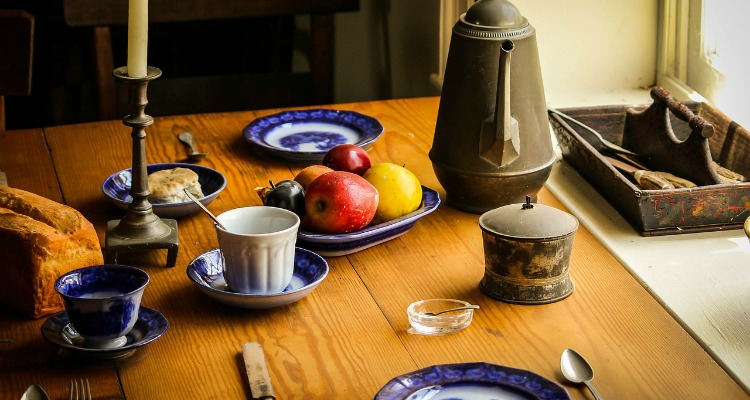 One Sabbath Jesus went to eat a meal at the home of one of the leading Pharisees...
Then Jesus said to his host, "When you give a lunch or a dinner, do not invite your friends or your brothers or your relatives or your rich neighbors--for they will invite you back, and in this way you will be paid for what you did. When you give a feast, invite the poor, the crippled, the lame, and the blind; and you will be blessed, because they are not able to pay you back. God will repay you on the day the good people rise from death."
***
This meditation follows the format of Daily Bread, a Community of Christ resource that is available for daily meditation. It includes a short message, a short excerpt from the Daily Prayer for Peace, a spiritual discipline, and a statement of a peace covenant.
He said also to the one who had invited him, "When you give a luncheon or a dinner, do not invite your friends or your brothers or your relatives or rich neighbors, in case they may invite you in return, and you would be repaid. But when you give a banquet, invite the poor, the crippled, the lame, and the blind. And you will be blessed, because they cannot repay you, for you will be repaid at the resurrection of the righteous." —Luke 14:12–14 NRSV
I am a foodie. I love to cook, but I also love to try new foods and have new dining experiences. I am fully convinced that one of the main reasons for this is my early experience of sharing meals with church members.
Some of my earliest memories are sharing with my family (my father was serving as a church appointee in Mexico) and going to homes of local members for meals. These homes were usually simple, and their food supply was meager. But the meal was always delicious and served with love and joyfulness. It was obvious to me that our hosts shared at a cost.
At first it made me uncomfortable, knowing that I was eating food at one meal that would likely serve them for a couple of days. But the hosts offered a sense of rich welcome and generosity. We felt their joy in having us in their home. I understood early what it was like to have a welcome place at their table.
I serve the church in the international field and again find myself welcomed to table after table with joy and generosity. Each country and culture is different, and every experience is unique. Sometimes it is a common meal such as potatoes and beans. Sometimes it's a little more interesting like guinea pig or udder. Sometimes it's a local dish like feijoada or baleadas, and sometimes it's similar to what I would prepare myself at home, like spaghetti or eggs. But my place at the table is always offered as one of welcome and love.
I love cooking for my family and inviting others for a meal. I love to share my food with others. I only hope that when I prepare meals for my guests I also am expressing the same welcome and hospitality I have felt countless times. I hope they know they always have a place at my table.
--Stephen Hatch of Lee's Summit, MO, USA
Prayer for Peace
God of hospitality, help us not only ensure a place at the table for everyone but to add love to the hospitality shown. Help us send our guests out with peace in their hearts.
Spiritual Practice: Offering Blessings of Community

Receive and share Blessings of Community. Begin with a prayer of gratitude for the friendships in your life. See and feel connections with family members, spiritual friends, people in your congregation and community, and people and creatures in God's sacred web of life. What blessings flow to you from these circles? How have you felt the love of the community?
Peace Covenant
Today, God, I will invite friends and new acquaintances alike, and bring peace to the table, as well as the food.