Announcements
OPEN ARMS ENGLISH CLASSES are on Tuesday and Thursday evenings starting at 6:30 p.m. through June 28. Please see Mary Rae Bayless if you would like to support this outreach to our Spanish-speaking neighbors. You can support by opening our doors, bringing snacks, being with children who might come, and just being good neighbors! The plan is to have Tuesday and Thursday evenings available for these classes for several weeks.
ALICE WINSHIP'S CELEBRATION OF LIFE SERVICE will be held April 28 at 1 pm here at Open Arms. In lieu of flowers, contributions can be made to the Alice Winship Memorial Fund benefiting Firefighters Relief Funds, c/o Hawthorn Bank, 220 W. White Oak, Independence MO 6 4050. For those wishing to attend but unable, we hope to stream via Facebook Live on David Winship's timeline.
APRIL 29 POTLUCK: Everyone is a winner! The potluck theme is BINGO. Bring a dish that is derived from the word BINGO (examples: "Beefy noodles," "Iconic iceberg salad," "No brainer casserole," "Good-googamoogy pie," and "Oh my goodness slap me silly chili.") We will also be playing White Elephant BINGO. Everyone bring a white elephant gift (a fun, inexpensive, universal gift or gag gift), something for everyone in your family participating. Kids are welcome!
MAY 18 & 19 - Open Arms garage sale. Volunteers needed. Accepting donations after the first of May.
COMING IN AUGUST: Open Arms blood drive and a spaghetti dinner fundraiser. This will be a memorial to Rick Winship, benefitting local firefighters benefit relief funds and the national fallen firefighters memorial. Volunteers are needed to make this happen.
WORLD WATER DAY was on March 22. This year we gave the students at Bryant Elementary School toothbrushes and toothpaste to celebrate. Mary Kay Speaks and Mary Rae Bayless delivered them for us.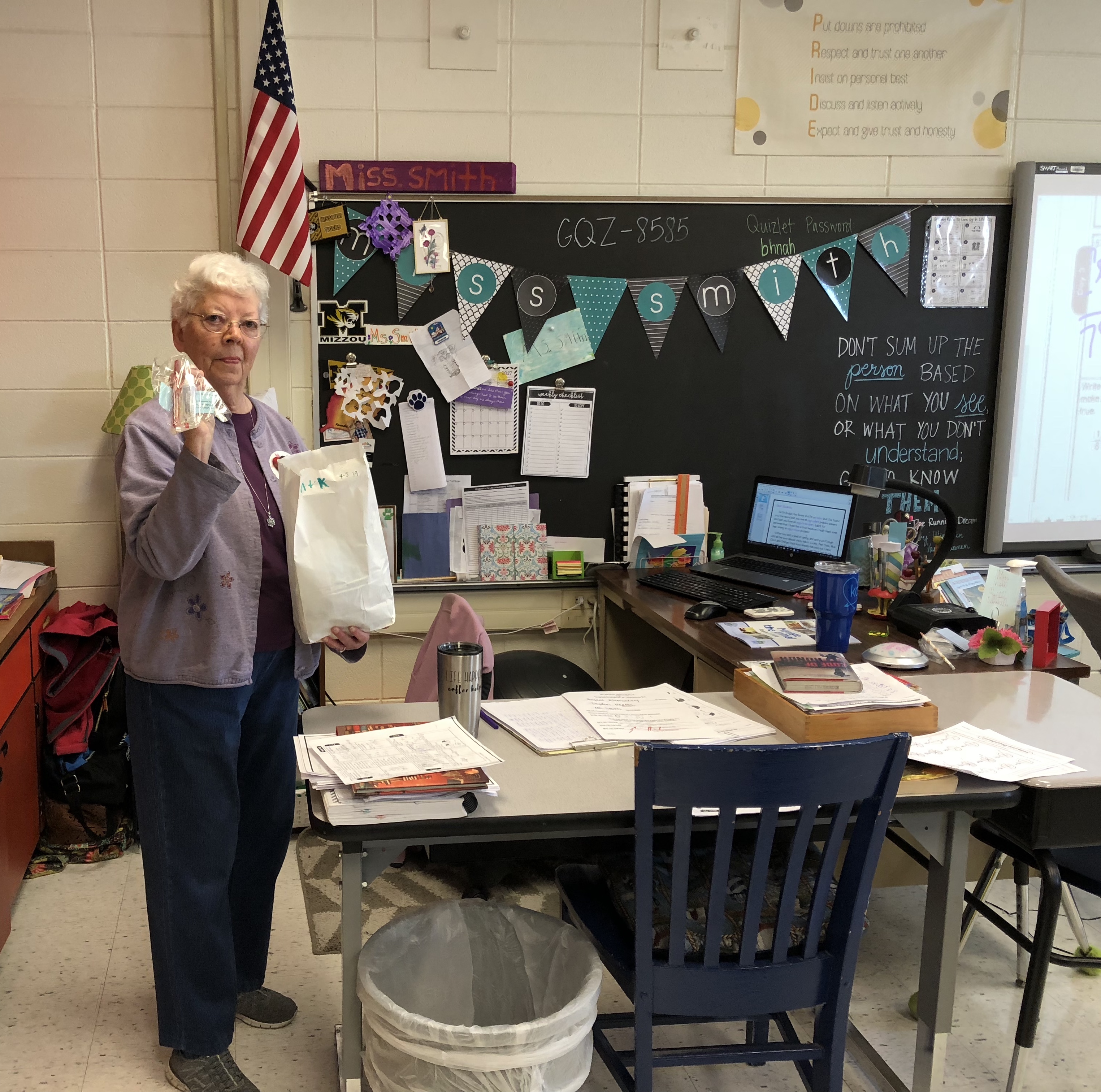 SERVING COMMUNION AT THE GROVES: This ministry is one that Open Arms has taken over several months ago. Most of these people are alone, after living a busy, fruitful life. We need priests and elders to sign up for this. You would arrive at The Groves at 9:00AM. You would be briefed by the pastorate there and then take the bread and wine to about 50 rooms, finishing at about 10:00AM. This gives us plenty of time to get back to Open Arms. If you would like to join the list of volunteers for this important ministry, contact Joe Bayless. We have the months of September, October, November and December yet before us.
We can use more persons who are willing to teach or help with children's and youth classes. If you are interested, please contact Mary Rae Bayless They are very important to us and our growth as a congregation.
CHILDREN'S OFFERING ENVELOPES are no longer being printed. Children may use the envelopes in the back of the sanctuary or those in front of the pews.
LAUGH LOVE LIVE LITE: Hear ye, hear ye! We have launched a new group ministry, a healthy living, healthy life-style group, focusing on healthy foods, cooking, recipes, and activities. The idea is that this group will offer support and group participation through Facebook and periodic gatherings. People can join the group on Facebook or by talking to Jim Stamberger or Portia Bowers. We hope this will be a grass roots group that will evolve and expand into some additional groups based on the passions and interests in specific areas of activities and exercise, food interest, or diet program.
WE ARE WORKING on making the nursery areas appropriate again for babies and young children. Thank you for your patience in this. The area behind the sanctuary is still ready for children to find quiet items to use or to bring with them to use where their families are sitting.
On Communion Sunday we ask that children and youth stay downstairs to experience the serving of the bread and grape juice together as a community.
If you are interested in serving in some way with our children and youth, please contact Mary Rae Bayless. We will be offering the Community of Christ training class for those wanting to serve our younger members in the near future. It will probably be on a Sunday after the worship service.
PLEASE KEEP ALL FOOD AND DRINK ON THE MAIN LEVEL OF THE BUILDING. It is easier to clean up if things are dropped or spilled, and there is less temptation for small 4-footed creatures to visit without invitation. Thank you!
THE TEACHER SUPPLIES for the 12 teachers at Bryant School Elementary were personally delivered to all the teachers on Wednesday morning. There were many thanks, smiles, and hugs from each one! Thank you for making this possible!
OUR KIDS' CHRISTMAS STORE served at least 28 children on November 12 plus at least 10 adults and 5+ helpers. Thank you again for making this service happen!
BARS OF SOAP FOR BRYANT SCHOOL! We delivered the soap to Bryant School on October 14 in honor of "Global Hand-Washing Day" (October 15). Thank you for your support!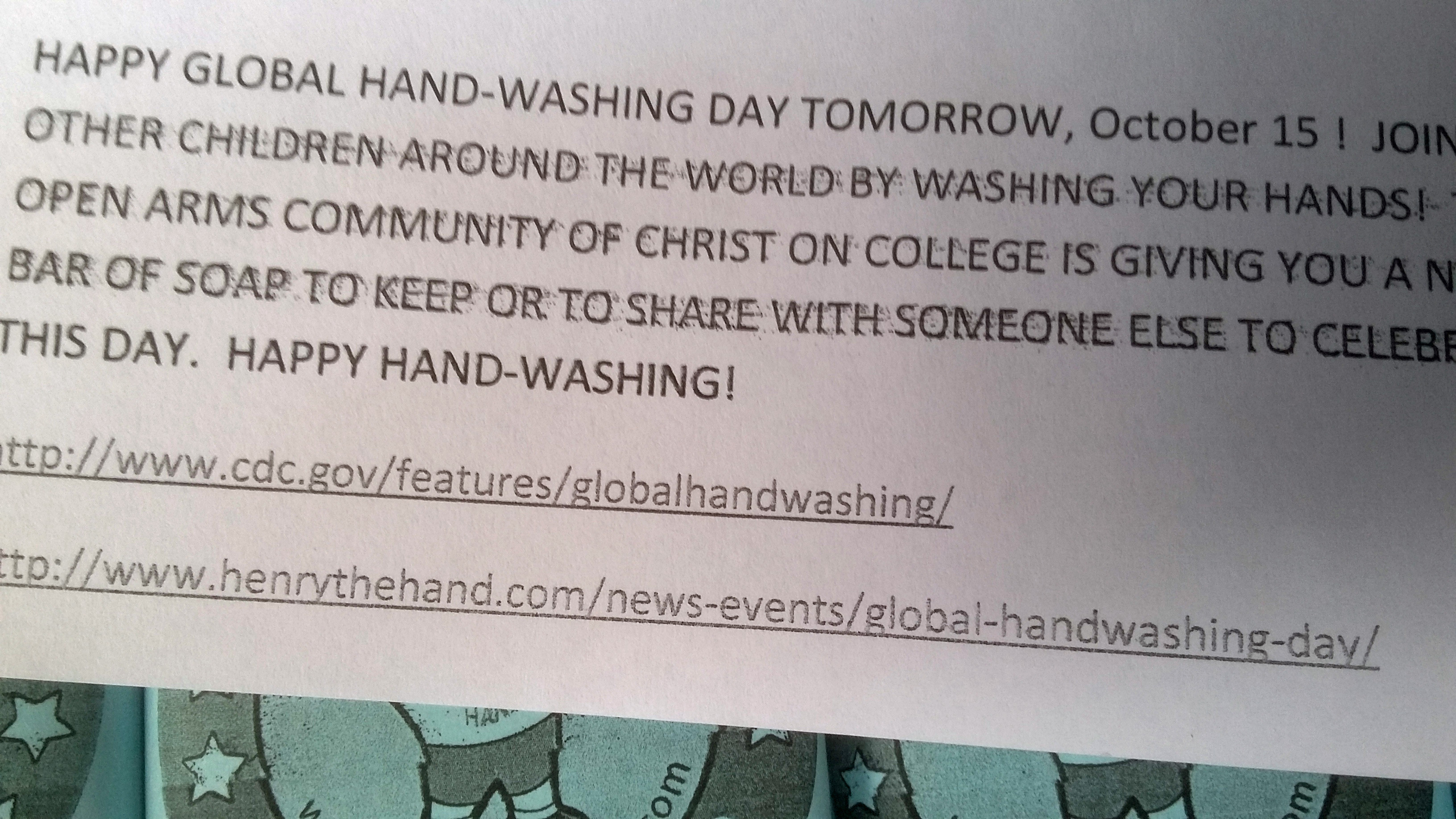 COMMUNION MINISTRY AT ROSEWOOD: Priesthood travel the 3rd and 4th floors of Rosewood (The Groves) and serve communion to those who want it on Communion Sunday. Serving is from 9:00-9:40 a.m. Please contact Joe Bayless if you would like to help.
FOOD PANTRY: Please help replenish our food pantry. We need canned meat (any kind), soups with or without meat, spaghetti sauce, noodles, cereal, breakfast bars, oatmeal packs, instant mashed potatoes, gravy, baby wipes, diapers, formula, canned chili, canned spaghetti, macaroni and cheese, canned stew, peanut butter, jelly, portable snack stuff, crackers, powdered milk, food that homeless can eat without having cooking utensils or appliances. Thank you!
PLEASE HELP US KEEP OUR BUILDING CLEAN! Please use the BLUE containers for paper recycling only. Other containers are to be used for food and other trash. All food and drinks should be kept downstairs. We have volunteers who come during the week to clean. Their pay is knowing they have done their job to make everything shine! We can help with that. Thank you!
IF YOU ARE INTERESTED in helping in some way with our Children's and Youth programs, please contact Mary Rae Bayless. A list of different areas where you can help will come soon. Start considering how you can help. Thank you!
On Sunday, November 16, Open Arms was presented with the gift of an angel statue by the Binger family. We appreciate this gift!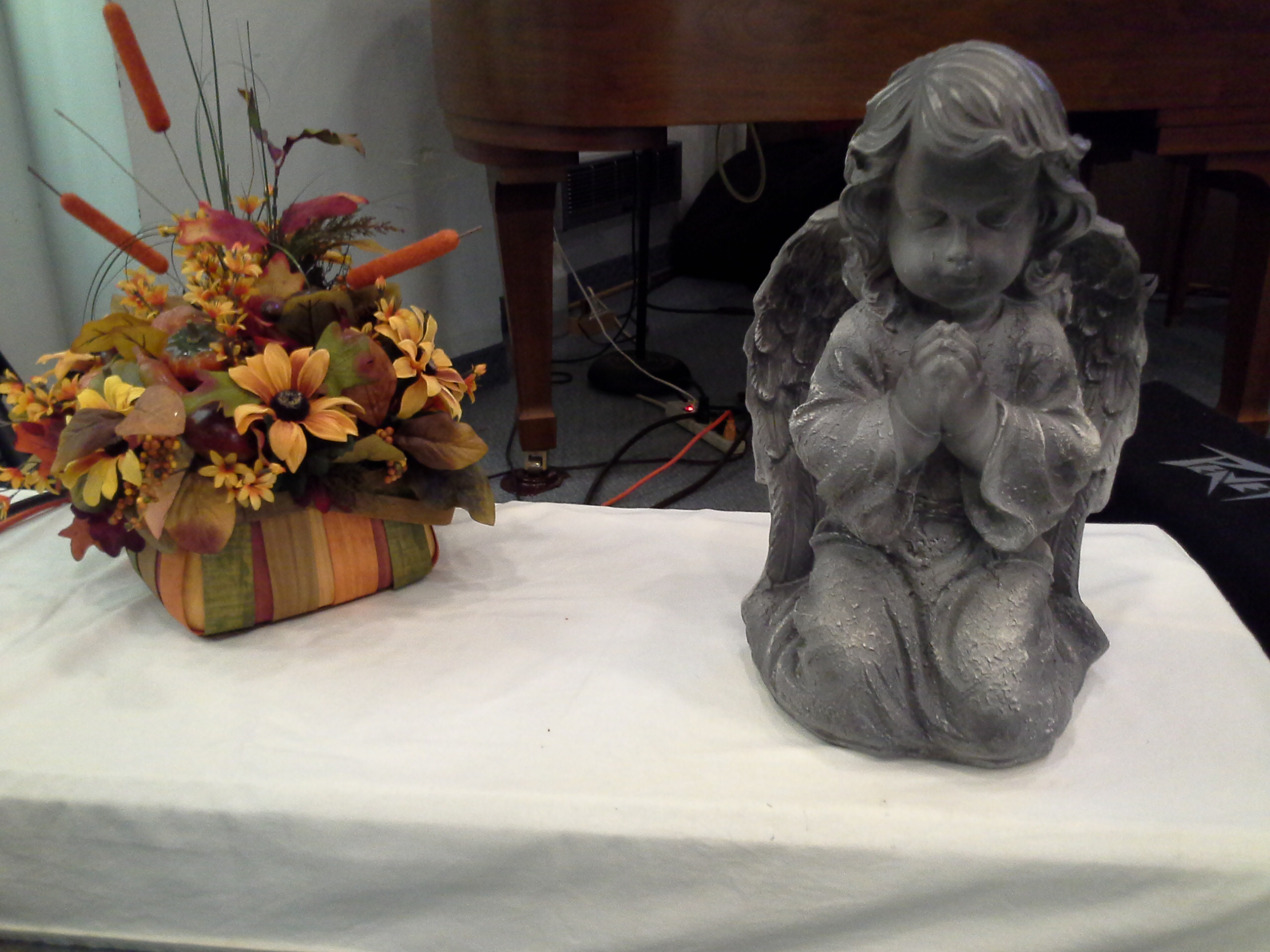 LANDSCAPE HELP NEEDED: We are looking for individuals, groups or families to adopt a section of the lawn and/or parking lots to help share the opportunity to be a beautiful church in the neighborhood. See Pastor Dave W. for details.
OUR FOOD PANTRY needs replenishing. Please pick up a few supplies as you do your own shopping. See Terrie Buckmaster or Patricia Smith for help or to make donations.
WE ARE LOOKING FOR SOMEONE to be the caretaker over the children's area in back of the sanctuary. Help is sometimes needed to assist children in putting things away in the shelves provided. Please contact Mary Rae Bayless if you are interested in helping there or know of someone who is interested.
WE WANT TO PROVIDE items for your children to use while they are worshiping with us that are of interest to them. If you think of something that would be useful, please let us know. We will be continually looking to simplify the children's areas but at the same time want to provide items that fit their interests and needs. You may have noticed that we welcome children and youth in a special way and want them to worship and learn with us.
KIDS AND YOUTH CLASSES ARE HELD downstairs for children and youth from 9:30 a.m. until 10:15 a.m. every Sunday. The children's class is continuing the theme: FRUITS OF THE SPIRIT. The teachers for this class are Cindy McDonald and Mary Rae Bayless. The youth class is using the theme: PEACE AND JUSTICE. The team of teachers for this class are Dave McDonald, Paula Strange, Louise Binger, and Tracy Stamey. You are welcome to visit! COMING THIS FALL: Nursery-age class
VIDEOS of some of the elements from previous services can be found on our photo album page.
YOUTH WORKER CLASS: The class for youth and adults to take to be registered for being a Children & Youth Worker for the Community of Christ is held periodically. The class includes a DVD presentation and will last about 1 1/2 hours. See Mary Rae Bayless to inquire when a class will be available and to request 2 forms you could have completed to bring to the class.
NEW KIDS/YOUTH AREAS:
Please contact Mary Rae, if you are able to assist in any of these areas!
Nursery:
For newborn–3yrs old. Please respect this space for our youngest members and parents located behind the balcony.
Worship Area:
Rocking chairs are especially for mothers with children or others who request them if available.
The Designated Kids Space behind the pews is especially for pre-school and elementary-age children with an accompanying adult.
Classes: Begin from 9:30 a.m. - 10:15 a.m. every Sunday morning.
Kindergarten–5th grade—located downstairs in the 3rd door on the left
6th–12th grades— located downstairs in the 1st door on the left
Ages 2–4—located downstairs in the 2nd door on the left (This class in still in process. We will announce when it is ready.)

Please continue to support our recycling project by RECYCLING ALUMINUM CANS. The container for the cans is located in the entry into our new "Hospitality" area. Remember to collect your cans and bring them every Sunday to help with this fund-raiser.
OFFERING ENVELOPES for children are available now on the table by the office. We encourage you to help your children or grandchildren use these envelopes to give their offering. Their name and the words Open Arms should be written on the envelope. OFFERING ENVELOPES are also available on the round table in the entryway for adults to use. Please contact Terry Spaulding, Dave Winship, or Mark Robison, if you would like them sent to your home for more convenience. They are free!
YOUTH, GRADES 7-12! We encourage you to attend the Wednesday night Youth Group at Stone Church. Every Wednesday, starting at 6:30 p.m. Come join the fun!
Our FOOD PANTRY continues to need supplies. Please pick up an item or two as you're shopping.
SOUND BOARD VOLUNTEERS! If you are interested in learning how to run the sound board, please contact John Mallas or Dave Winship so that a class can be scheduled.
PRAYER WARRIORS are needed. If you would like to be contacted for prayer needs for Peace Riders, please contact Steve Palmer.
SUPPLIES NEEDED: Can you help Open Arms with a gift-in-kind? We are looking for donations of paper towels, eco-friendly toilet cleaner, Folex carpet spot remover, coffee cups, 5 oz paper cups for water, coffee (preferably free trade), cappuccino, tea, sugar, small paper plates, creamer, paper plates for potlucks, plastic silverware, plastic ziplock bags, liquid hand soap refill, and Clorox wipes. Turn in your receipts with your name and we'll credit you for your gift-in-kind. Your donations will help keep congregational expenses down for the next year.
Do you know someone who is sick, hospitalized, or has lost a loved one? Let Michael Porter know so we can send those in need a card from the congregation.
Daily Prayer for Peace - We worship in the shadow of the Temple, and every day at 1:00 p.m. there is a short service in the Temple focused on peace. We've been asked if there is anyone in the congregation who would be willing to coordinate one Sunday a month. If so, please contact Janné Grover via email or at 816-833-1000, ext. 2428.
Help with sewing? We are searching for anyone interested in making pillows for new children and babies who come to Open Arms. It involves mainly straight stitching, embroidery or satin stitch for the heart, stuffing with filling, and closing the stuffing hole.
Another ongoing sewing project is sewing small banners for children who are baptized to give to them after they are confirmed. This is also all straight stitching. Contact Mary Rae at 836-1312 if you are interested in helping.